the
Milky Wimpshake
homepage
A fanpage devoted to the DIY punk-pop band from Newcastle Upon Tyne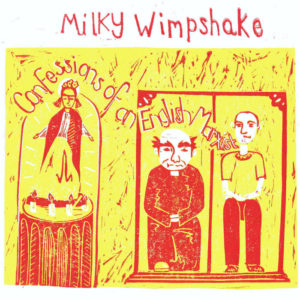 Not remotely new news, but last October the band released a new album of catchy catchy tunes for this messed up moment. Confessions of an English Marxist comes on the band's new home, Madrid's excellent Bobo Integral. Vinyl sold out, but buy the digital album on Bandcamp! Start with Fuck Art, Let's Danse and, well, do what the song says (the second part). Other highlights: Rachel Kenedy guest vocals, a rare Wimpshake spooky track (first since Songs of Zoom and Buzz?), "Put Boris Johnson in a tower." We missed them too, Austin Town Hall!
(Mis)transcription of lyrics to come…
Since this site's birth in the 1990s, it's sat atop the Google results for "Milky Wimpshake", "Wimpshake", and the odd "Whimpshake" search. But a while back the site dropped off Google, with most pages declared "duplicate without user-selected canonical." Comrade, this is all canon, Slampt-wise at least. So we're giving it a go again, with WordPress help. If this takes, you'll again see that slow trickle of lyric (mis)transcriptions and Facebook-gleaned gigs.
Update 6/5/19: The site has launched! Thanks to some expert help, songs play more easily and the site is legible on phones. The site still needs a bit of review, along with finally adding a blurb and lyrics for the Encore album and adding all the archived news. Feel free to report any omissions, mistakes, etc. to jdkrieger@gmail.com. For newer news, go to the band's Facebook page.